Welcome to Mon Ami Bed and Breakfast
Mon Ami Bed and Breakfast, located in central Tucson, Arizona, boasts the best of both worlds. It is situated in a tranquil residential neighborhood with acres of unspoiled desert landscape that frame unfettered views of the Catalina Mountains. It is also close to everything! Within walking distance of shopping and entertainment at Park Place Mall, and a quick drive to "restaurant row", where you can enjoy the cuisine of your choice. The University of Arizona, downtown Tucson and beautiful Sabino Canyon are just 10 to 15 minutes away. If you desire an invigorating jog or relaxing stroll in the desert, they're just outside the front door.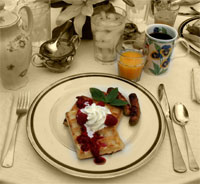 This charming bed and breakfast is hosted by Pat Sparks, former owner of Penelope's Restaurant and an award winning French Chef. You can read more about Pat by visiting here.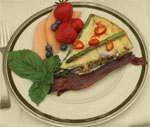 She will create memorable dining as well as a warm comfortable environment in which to enjoy your stay in the "Old Pueblo."